Physical Therapy
I came because of a back issue which has been recurring for years. The staff was able to set me up with a daily routine to help reduce the frequency of flair-ups as well as a tool kit of techniques for when the pain is more severe. I would highly recommend Therapy Unlimited to anyone experiencing chronic issues.

Robert S.
I tore a muscle in my knee when I was ice skating and had to have an operation to fix it. I ended up having 2 different leg casts over 3 month. My leg was skinny and weak and it hurt when I walked on it. Jennifer was my favorite therapist and with her help - I learned how to walk again! Everyone at Therapy Unlimited are so nice and they always told me what a great job I was doing even when I was grumpy!

Lynn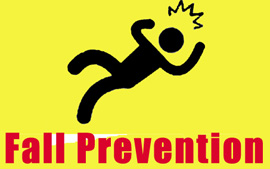 Although completely eliminating falls is unrealistic, many of them occur under predictable circumstances. Most falls can be prevented by identifying the key risk factors that contribute to an increased risk for falls and then taking steps to minimize or eliminate them. You may need outside professional help in identifying these risk factors. A number of strategies can help to reduce your risk of falling. These can include:
Identify problem areas in your home, workplace, and community environments.
Think about symptoms that may be contributing to your fall risk. For example, might fatigue be a problem? Be aware of your high and low energy times during the day, and consult with a medical provider about energy conservation techniques. What other symptoms do you currently experience that might contribute to your risk of falling? Are these symptoms well-managed? If not, talk to your doctor about how you can minimize these symptoms.
Use the right mobility device - be sure it fits you correctly and you know how and when to use it properly. Be prepared! You may not need a cane in the morning, but may need it later in the afternoon when you experience greater fatigue.
Know what to do if you do fall.
Think about your clothing and shoes - are wide legged or long pants a possible trip risk? Are flip-flops, high heels or open back shoes creating more risk for you? Would a pair of sunglasses decrease glare without compromising your ability to clearly see?
Consider an exercise program designed to minimize fall risk - one that concentrates on balance, core strength, posture, and gait.
Explore ways to build confidence and minimize risk by using fall prevention techniques. If fear of falling is preventing you from participating in activities you enjoy, discuss these fears with your medical provider. Are the fears realistic?