Physical Therapy
September 23, 2020
To the staff at Therapy Unlimited,
Thank you so much for the excellent care you provided during my recovery with a broken knee and wrist. I really appreciated your expertise in developing the therapy regime to quickly regain my strength and mobility. The pool was a true highlight - it is just a gorgeous facility and water therapy was a key component of my recovery. And of course you all know how much I enjoyed the paraffin (wink!).
But truly, where Therapy Unlimited really shines is your staff. Every single one of you are so kind and pleasant - just genuinely nice people. That makes a difference - it was clear to me that everyone really cared about my recovery. I always looked forward to seeing your smiling faces (well, I could tell you were smiling under your masks!) and chatting with all of you.
Hopefully I won't need your services again for many years to come, but if I do, I would not hesitate to come back to your fantastic facility and staff!If I can provide a reference beyond this letter at some point - please don't hesitate to reach out.

~ Wendi W.
I am very improves with the staff at Therapy Unlimited. I was being treated for benign positional vertigo and they cured it in 3 – ½ hour sessions. I would have to say they are a knowledgeable group of practitioners. Thanks for your help.

Sincerely, Norm. E.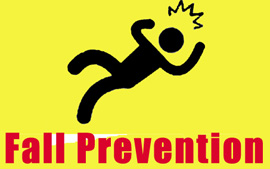 Although completely eliminating falls is unrealistic, many of them occur under predictable circumstances. Most falls can be prevented by identifying the key risk factors that contribute to an increased risk for falls and then taking steps to minimize or eliminate them. You may need outside professional help in identifying these risk factors. A number of strategies can help to reduce your risk of falling. These can include:
Identify problem areas in your home, workplace, and community environments.
Think about symptoms that may be contributing to your fall risk. For example, might fatigue be a problem? Be aware of your high and low energy times during the day, and consult with a medical provider about energy conservation techniques. What other symptoms do you currently experience that might contribute to your risk of falling? Are these symptoms well-managed? If not, talk to your doctor about how you can minimize these symptoms.
Use the right mobility device - be sure it fits you correctly and you know how and when to use it properly. Be prepared! You may not need a cane in the morning, but may need it later in the afternoon when you experience greater fatigue.
Know what to do if you do fall.
Think about your clothing and shoes - are wide legged or long pants a possible trip risk? Are flip-flops, high heels or open back shoes creating more risk for you? Would a pair of sunglasses decrease glare without compromising your ability to clearly see?
Consider an exercise program designed to minimize fall risk - one that concentrates on balance, core strength, posture, and gait.
Explore ways to build confidence and minimize risk by using fall prevention techniques. If fear of falling is preventing you from participating in activities you enjoy, discuss these fears with your medical provider. Are the fears realistic?